Journey back to Chronopolis...
Chronopolis is the 70th FREE community arrangement album from OverClocked ReMix.
The album arranges the music from the RPG Chrono Cross in a variety of styles as a tribute to Yasunori Mitsuda's seminal OST. It features 28 tracks arranged by 29 artists and was released on March 18, 2019.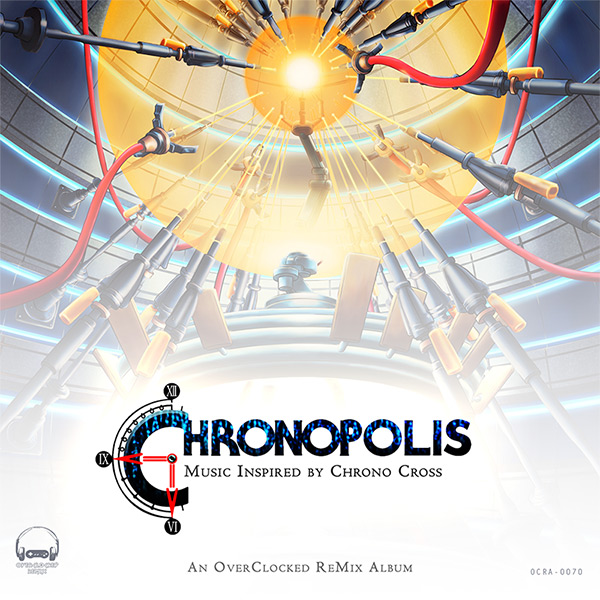 Director Comments
Chrono Cross's OST represents one of the formative works that influenced me to make music. I initially fell in love with the lush visuals and setting, but the music was what drew me in and kept me there. As I prepared to lead this album with months of critical listening and planning, the OST rooted me in a way that few others have. Yasunori Mitsuda's distinctive combination of singable, recognizable melodies and unique instrumentation made for an unforgettable and endearing soundtrack that transports me to an island paradise, complete with ancient ruins and fantastical creatures.
I can't help but be excited for this album's release. Any project usually has a few people that have been around for a while (Jorito, myself, OceansAndrew), but inevitably there's a few newcomers that also knock it out of the park (Ophanin, Earth Kid, Steven Melin). I believe that the overall quality of this album is easily the best that I've ever been involved with, and I hope that this project enables everyone who listens to be able to revisit the world of Chrono Cross yet again, nearly 20 years later.
- Brad "prophetik music" Burr
Download
Downloading the album using BitTorrent is the best option - it helps us save bandwidth and gives you the option of downloading MP3, lossless FLAC files, or both by selecting which files to grab in your BitTorrent client.
01 - Hold onto the Dream
Arranged by:

prophetik music, DragonAvenger, Chris ~ Amaterasu

Source:

Radical Dreamers ~Le Trésor Interdit~

DragonAvenger:

I always loved "Radical Dreamers" since I first listened to the Chrono Cross soundtrack years ago. I always thought it would be cool to have a version in English that matches as closely to the original version in Japanese, and I had worked out lyrics ages ago to do so. I was super glad when Brad wanted to work with me on this song, and, with some tweaking here and there to the old lyrics I had, we were good to go. I got inspired by Brad's mix to come up with some harmonies for the first chorus to match the power that he created in the interlude, and with Andrew's (OceansAndrew) help I was able to fill that section out even more. Some more harmonies provided by Brad later and the song came out really well!
02 - Awakening to Adventure
Arranged by:

Steven Melin

Source:

Arni Village: Home

Steven Melin:

When playing Chrono Cross growing up, I found the music of Arni Village to be incredibly engaging and somber. It has a peaceful nature to it -- a clear sense of home and belonging -- yet has an agitated spirit that communicates the need to move on. It's no longer OK to be home. It's time to grow up and have an adventure: to make a mark on the world. This track always stood out to me, so it's a pleasure to pay homage. This incredible music holds such a powerful weight in the telling of the game story!
03 - Whispering Shadows
Arranged by:

NoTuX

Source:

Shadow Forest

NoTuX:

This is my humble remix of "Forest of Cutting Shadows" from the Chrono Cross soundtrack. In this mix, I attempted to emulate the feeling of traversing through a hot, steamy forest filled with creepy, crawling creatures all around, and enhance the mysterious and dark nature of the original song.
04 - Cosmic Kleptomaniac
Arranged by:

Wiesty, The OC Jazz Collective

Source:

The Girl Who Stole the Stars

Wiesty:

As soon as Brad announced that he was starting a Chrono Cross project, I jumped on the opportunity. Radical Dreamers: Thieves of Fate was the very first project I was involved in back in 2005 and, so, I felt like this would be a good chance to revisit my introduction to OCR as well as get the OC Jazz Collective involved in some community albums. I have always loved this source. I feel that it is probably one of the most emotionally provocative tunes that Mitusda has ever written (and that is saying a lot given his list of works). This arrangement began as a piano improvisation that eventually formed into an acid jazz ballad. With plenty of dissonant harmony, Juno pads, Fender Rhodes, and Harmon mute trumpet, I wanted this piece to have this distinctly crystalline quality. The crew did an excellent job at capturing my vision for this piece, and I hope that it serves as a launching point for more collaborations in the near future!
05 - Outside Looking In
Arranged by:

prophetik music

Source:

Those Who Have Departed

prophetik music:

This song represents my first attempt at writing music after an 18-month hiatus, as I stepped away from composing after my second child was born (as much due to apathy as due to time constraints). I knew that I wanted to do something that felt familiar to get back into it, so I went back to some of my favorite types of samples -- piano and celeste, hollow, gliding synths, and some theatrical ethnic drums. I needed more though, and that's when the idea of contrasting the introduction with some heavily compressed drums and fat synths came to me. The aleatoric wind chimes in the background comes from a mental image of an abandoned shack, run down, with a few pieces of formed metal moving slowly in the wind.
06 - Serge's Failure
Arranged by:

Ophanin

Source:

Grief

Ophanin:

It was a real challenge to get something out of those 20 seconds. The melody is just a descent from the E minor range whose end stops on the sensitive. It did not encourage inspiration, so I did what I liked: a film noir score.
07 - Chillopolis
Arranged by:

bLiNd

Source:

Chronopolis

bLiNd:

This track has a deep meaning for me since it inspired my very first ever song I wrote for a video game (game was never completed), but it was my very first attempt at composing (can be heard here). I knew that Yasunori used a percussion loop for that instantly recognizable sound of the "Chronopolis" track, which I managed to find and use fully since Yasunori only used the first half of it (for reference, it's 78-Transformer from Spectrasonics' Distorted Reality 2 sample disc). Once I added a 90's-feel breakbeat for that downtempo sound, the track started to come alive a bit and, eventually, I added some live loops from Organic Loops for the trumpet, sax, and guitar riffs near the end to give it a jazz spin and change up the feel a little. The final product, I think, is something worthy of the original and gives a nice spin to one of the coolest game songs ever and I really enjoyed doing something different for a change.
08 - Jupiter Jellie
Arranged by:

Avaris

Source:

Jellyfish Sea

Avaris:

My main inspiration for this track was to create a moody, laid back soundscape that paid homage to the original. As I was experimenting with different ideas, I came across a lot of older trip hop songs. I felt the shuffled beats sounded super fresh. So, I programmed a trip hop beat over the ambient bed of sonic textures. I instantly loved the vibe. From there, I reworked the song to highlight the hazey/ambient vibe with old school trip hop drums. Added in some ethereal vocals and you got yourself some "Jupiter Jellie."
09 - Regretful Lullaby
Arranged by:

OceansAndrew, Scaredsim, prophetik music

Source:

Ephemeral Feelings

OceansAndrew:

One of the best and most bittersweet sounding tracks in the game, I've always wanted to try a rendition of it. I settled early on a lullaby style with some acoustic guitar, harp, and synths, and then added some great performances from Simon and Brad, on EWI and saxophone. I wanted the end result to be something relaxing but nostalgic and wistful, and I think overall it turned out great. I hope everyone who listens to this enjoys the relaxing feeling it gives.
10 - Sandman's Vision
Arranged by:

The Coop

Source:

On the Shores of a Dream: Another World

The Coop:

Way back when I first began playing Chrono Cross, "On the Beach of Dreams - Another World" stood out to me. It was such a simple melody, but it was pretty with the gentler way it played compared to other songs in the game and with the instrument choices. When prophetik's project came about, I decided to see if I could take part with what I had in mind; a piano solo rendition. I wanted to further the melodic simplicity while giving it both an even softer touch at times, as well as moments that swelled beyond what the original had done. I knew it would be a bit of a challenge, given that the original song is only 60 seconds long, with half of that being repeated sections. But I didn't want to pass up the chance to take a stab at a lovely song like "On the Beach of Dreams." Thankfully, I was given the go-ahead by prophetik and the end result was "Sandman's Vision." I hope you guys enjoy it.
11 - If I Could...
Arranged by:

Jorito, JoyDreamer, Trev Wignall, prophetik music

Source:

Reminiscence ~Undying Feelings~

Jorito:

Originally, I wanted to remix "Voyage - Home World" for the album, but when I finally was able to sit down and give it a go, I struggled to come up with something that would do this piece justice and still make it different enough. When I checked out the rest of the OST, I stumbled upon "Reminiscing" and that track immediately resonated with me, since I'm a sucker for these kind of slow, melancholic tracks. I thought the source material would work well as a vocal ballad, and that, of course, means vocals. I just knew that Joy would have the perfect voice for this, and listening back to the track, she definitely doesn't disappoint! Since she's a big fan of Chrono Cross too, it made co-writing the lyrics a breeze and also a lot of fun. I also knew quite soon in the process that I wanted a live performed solo part, but couldn't quite decide if I wanted a violin solo or a saxophone solo. When Brad mentioned he's plays saxophone, I asked him to give it a shot, and he came up with a kickass solo. However, I couldn't quite ignore the idea that violin would sound great on this track too, so I wrote some interesting, soaring lines to accompany and compliment the vocals. It already sounded pretty good with the samples I used, but I asked Trev if he could kick it up a notch, and he delivered a fabulous performance that really makes the violin sing. Dig it. Hope you do too.
12 - Under Cerulean Skies
Arranged by:

Earth Kid

Source:

The Grasslands of Time: Home World

Earth Kid:

I joined the Chrono fandom late -- I didn't play Trigger and Cross until adulthood, but the stories of both games and the music of Yasunori Mitsuda captured my heart and have earned a permanent place in my hall of inspiration. This remix was born of my love for the franchise and my appreciation for Mitsuda's artistry. I noticed that several tracks from both games had similar chord progressions at certain points, so I borrowed elements from "Life ~A Distant Promise~" and "Schala's Theme," the vibe of "Chronomantique," and the poignant end of "To Far Away Times" while arranging "Fields of Time: Home World." For this remix, I sang, wrote the lyrics, and performed the harp, piano, hammered dulcimer, Irish bouzouki, tenor recorder, and tambourine, while my husband contributed his djembe skills. I wanted this arrangement to have a laid-back, island feel, but, in the true spirit of Chrono Cross, to also convey introspection as the speaker ponders the deeper meaning of life and wonders if there is something more beyond the horizon. I hope I achieved that!
13 - Eye of the Storm
Arranged by:

Steven Melin, freezetag

Source:

The Bend of Time

Steven Melin:

The soundtrack of Chrono Cross had an incredible impact on my journey into becoming a full-time music composer and video game music arranger. Its beautiful melodies encapsulated the game story and set an overall peaceful mood throughout the experience, a style of writing that continues inspiring my own composition. I particularly enjoyed arranging this theme for solo piano due to its calm nature. I enjoyed the challenge of expanding upon the simple tune and bringing out more emotion through thicker harmonies, more motion, and experimenting with an exciting key change about halfway through the track. I'm grateful that Trevor Alan Gomes generously recorded this emotional performance on his grand piano -- it really gives this tune the attention it deserves.
14 - Hold onto the Dream [Instrumental]
Arranged by:

prophetik music, Chris ~ Amaterasu

Source:

Radical Dreamers ~Le Trésor Interdit~

prophetik music:

This was the song I wanted to make when I started this project. "Radical Dreamers" was the first track I ever attempted to remix, and I've chased this tune with multiple arrangements over the years. Looking back on fourteen years of arranging game music, I'm so glad that I've been able to continue to pursue this hobby for as long as I have. Deia came to me with this track and some suggestions of style, and I couldn't help but dive into a chillstep arrangement featuring her singing and some fun pads and keys. I'm very happy that it's turned out so well.
01 - Operation Slash and Dash
Arranged by:

prophetik music, Tuberz McGee

Source:

Chrono Cross ~The Scars of Time~

prophetik music:

"Scars of Time" is, without a doubt, one of my favorite pieces of game music of all time. It's so dynamic, and does such a great job of evoking the feelings of the opening video. I knew that we couldn't release a CC project without this song handled, but no one had stepped up to the plate after several months. I'd been talking over the song with a friend and hit on the idea of doing it in a WWDD style (What Would Dragonforce Do?)... that is, just slam screaming guitars and double bass pedal over the entire thing and speed it way up. It turned out exactly as I'd hoped -- with even more energy and excitement than the original. Many thanks to Tuberz for stepping up and going after the guitar and bass parts with very little direction from me.
02 - Liskojytä
Arranged by:

Eino Keskitalo

Source:

Dance with the Lizards

Eino Keskitalo:

I've had a couple of Chrono Cross arrangements from People's Remixing Competition lying around since 2013 that I've been wanting to finish, so I (once again) took the opportunity of an appropriate album project to finish up this one. I had been working on it since then at some point, there was basically only polishing to be done. I had lots of it in mind, but, thankfully, Brad's enthusiastic response to the track made me realize it was already close to good enough. That final stretch to good enough did take plenty of effort though! "The Lizard Dance" is a pretty cool one-chord jam... I added a little bit more bass movement in this arrangement. There's also the bit where I've taken two lines and separated their tempo, cutting the other in half and other in 1/4, and bringing it up in steps... the harmony ended up not matching so well anymore, so there was some tweaking there. Overall, I remember wanting to experiment with chip sounds over rock drums back then, and that's what all the sounds are here, simple waveforms apart from the drums. There are a couple of cameos from other games, one from Wonder Boy in Monster Land, the final dungeon music, and one from the Syreen theme in Star Control 2. A huge thanks to Brad for directing the project and cheering this one to the finish line!
03 - Climb Terra Tower, This High
Arranged by:

prophetik music

Source:

Prayer of the Dragons

prophetik music:

I approached this track with the specific interest in using the fairly minimal harmonic backing as the frame to carry some drum exploration. I used Synplant's grow feature to create some wonky synths that were very different from the pure, clean sounds I've used a lot lately, and then tried to just goof around with the beat a bit. I'm a novice at drum programming, but it's fun to explore! One of the fun things about stretching drum samples is that they acquire a bell-like quality to them sometimes as their timbres change, and I tried to incorporate that in some of the arpeggiating sounds.
04 - Fire Never Fades
Arranged by:

Ophanin

Source:

Frozen Flame

Ophanin:

I like the way Mitsuda used jazz techniques to compose his scores, so I tried to keep a non-functional harmony with an always-moving orchestra. I also kept the melody and used the first section of it to make some consistency. The remix begin in Gb major (but the original is in Eb minor) and it goes in F# minor. I think it makes it spicy.
05 - When Two Worlds Meet
Arranged by:

Jorito, Earth Kid

Source:

Termina: Another, Marbule: Home

Jorito:

At the very end of the Chrono Cross project, Brad hinted that he could use another track for the faster disc of the album. As it happened, Earth Kid and I had been brainstorming on Discord about a possible collab where we could combine together her folk sounds with the electronic world. This seemed like an excellent excuse to give it a shot! After some discussion, we settled on a rough workflow with me focusing on arrangement, percussion, and bass and electronic sounds in general, and her on live performances on her folk instruments and overall mixing, and both of us chipping in where needed. The track started off with a bare-bones piano arrangement from Earth Kid that I messed around with. There was a bit of "Marbule" in there in 4/4 that instantly inspired me to add some drum & bass vibes to it, but the other parts were in different time signatures that I struggled to get working in a good way with electronic stuff. After some discussion and experimentation, I finally settled on putting it all in 4/4, but with some swing applied as a nod to the original 6/8 and 2/2 time signatures. From there, the arrangement got fleshed out rather quickly, and when Earth Kid replaced my scratch MIDI with her arsenal of instrumental and vocal performances, the track really came to life. With the swing applied to the track, it has some bouncy goodness to it that I really dig, and, with the interesting contrast between the folk and electronic elements as well as an arrangement that keeps things moving, I am hoping you will be bobbing your head to the song as much as we did!
06 - Magma Bomb
Arranged by:

prophetik music, Tacorina of Time

Source:

Mount Pyre

Tacorina of Time:

When I was asked by Brad to create an idea for an OCR of my favorite video game soundtrack of all time, I was pretty ecstatic. I chose "Death Volcano" because it is such a unique song on a soundtrack entirely comprised of unique songs. I love how the nuanced melodies and instrumentation coalesce to create the atmosphere of Mt. Pyre. Having no actual experience in composing all aspects of a song, I started with two things I know: mixed meter and drum beats. I wanted to create an electronic OCR, but still capture the uniqueness of the composition and instrumentation. I figured mixed meter would be a great way to translate this. I also wanted the drum beats to frame the song to make the melodies easier to place in the new meter. Brad did an excellent job with keeping rich, atmospheric texture as the core of the song, and to me evokes imagery of fire and the inside of a cave.
07 - Home Sweet Guldove
Arranged by:

OverClocked University

Source:

Guldove: Home

OverClocked University:

We've played this song live for years and it's always been one of our favorites. It's more piano-heavy that a lot of our tracks, but it feels pretty good. This is a track on our third album! OverClocked University consists of OceansAndrew, DragonAvenger, Level 99, and Thomas Colegrove.
08 - Too Much Calcium
Arranged by:

prophetik music

Source:

Fossil Valley

prophetik music:

As a seven-year-old, one of my favorite CDs was Water Stories by the Andean new age group Cusco. I found the sounds so interesting and unique, especially the pan flute sounds that defined their style. I messed around with some samples and found a few that sounded similar to the synths used on that album. I loved the vibe and the water theme worked well. I added in some typewriter samples and the track came together quickly.
09 - A Timely Victory
Arranged by:

Lemonectric

Source:

Victory ~Gift of Spring~

Lemonectric:

Did someone call for some chiptune? No? Well, I'll just leave this here... Having never played Chrono Cross, I was happy to claim a tune I recognized as originating from Chrono Trigger. It's definitely among the shorter tunes I've arranged, so I decided to extend the opening jingle into its own section and play the main theme over a different chord progression to add some variety.
10 - The Beat That Time Forgot
Arranged by:

prophetik music

Source:

Gaea's Navel

prophetik music:

I'm no DJ, but I've always had a soft spot in my heart for club tracks, with their oodles of reverb, wide bass, and arrangements that often feature a lot of layering and repeated patterns. This song fit so easily into this style that it only took two days to get the arrangement and basic sound design done.
11 - Trust My Unwavering Heart
Arranged by:

prophetik music, Janna McKnight, Cyril the Wolf

Source:

Life ~A Distant Promise~, Sea of Eden

prophetik music:

Full disclosure: as a 15-year-old playing this game one summer, I could never get this ending. I tried for a week. Janna contacted me and offered her services near the beginning of the project, but I didn't hit on the orchestral rock idea until a later conversation with her. After sussing out some initial song structure by combining "Garden of God's" fairly basic melody as the verse with "Distant Promise's" heroic theme as the chorus, Janna wrote the entire lyric text herself, based on the game's plot. After some collaboration to clean up the words, I contacted Cyril for guitars at this point, and we were able to put together a really fun version of some great game music.
12 - The End of Time
Arranged by:

Ophanin

Source:

Those Imprisoned by Fate

Ophanin:

This is a very emotionally charged song, but from a melodic point of view it's difficult to grasp it. Without the harmony in unprepared ninths chords, it loses much of its strength. It was necessary to shape the original theme to make something interesting. It was a hard journey to get this result! Thanks to prophetik music and Aki-FR for their help.
13 - If I Could... (Synthwave Mix)
Arranged by:

Jorito, JoyDreamer

Source:

Reminiscing ~ Uneraseable Memory

Jorito:

Uhh... oops, I did something weird? I ended up remixing one of my own remixes. I was working on a remix of Chrono Cross's track "Reminiscence" for the Chronopolis remix album, and waiting for some recordings to come in so I could finish the track. During some random YouTube watching, I stumbled upon a synthwave track in the style of The Midnight, suddenly got very inspired, and was wondering if I could do something similar. Fortunately, I already had some vocals that Joy recorded for my original remix, so it was a great time to see if these vocals would work in this alternative version too. Turns out it did work pretty well, even though I did have to ask Joy to re-record due to the slower tempo. To me, this alternative remix goes hand in hand with the other version, each using the same source and the same lyrics, but each with their own feeling and mood. All in all, this was a really interesting experiment, and I love what came out of it. Hope you enjoy it as much as we do!
14 - Trust My Unwavering Heart [Instrumental]
Arranged by:

prophetik music, Cyril the Wolf, JohnStacy

Source:

Life ~A Distant Promise~, Sea of Eden

Cyril the Wolf:

I enjoyed stretching myself out for this one. I'm not primarily known as a guitar player, I think, but it was fun to do some guitar noodling and put my new baritone guitar through its paces. I really had to experiment to get the tone correct for a dense mix such as this one, but, with feedback from Brad, I think we got there. I'm super happy to have been able to contribute to the Chrono Cross project because I definitely didn't have the time to contribute a track all on my own. Thanks for having me!
About OverClocked ReMix
Founded in 1999, OverClocked ReMix is an organization dedicated to the appreciation and promotion of video game music as an art form. Its primary focus is ocremix.org, a website featuring thousands of free fan arrangements, information on game music and composers, resources for aspiring artists, and a thriving community of video game music fans.
OCRは1999年に創立されて、ゲーム音楽への感謝、保存、演出に専念するための組織です。OCRの主要な活動は ocremix.org で見つかるインターネットサイト。このサイトに数百のゲーム音楽好きに作られたリミックスのMP3と、ゲームの音楽と作曲家の情報と、音楽家を熱望している人のための供給源と、にぎやかなゲーム音楽のファンがいっぱいいます。
All original compositions and characters from this album are copyright their respective owners. Arrangements are available under the OverClocked ReMix Content Policy terms of use.